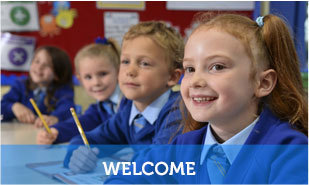 A Message from Mrs. Wild...
On behalf of the governors, staff and children I am delighted to welcome you to Broadoak Primary School's website.
We currently have 476 children on roll. Our aim is to provide all children with meaningful and engaging learning experiences that will prepare them for life in the 21st century. At Broadoak Primary School we are very proud of our pupils and their successes. We offer personalised learning for our young people, within an inclusive, engaging learning environment. Our friendly staff team is clearly committed to providing a secure and happy place in which to learn, one in which all children are able to thrive socially, emotionally and academically to achieve their full potential. We believe that education is a partnership between pupils, teacher and parents working together to foster and develop a life long love of learning. Our children are highly motivated, well behaved and truly delightful to teach!
We are proud to welcome parents and children to view our school and to talk about our aims, beliefs and provision. Please feel welcome to contact school to arrange a visit, ask questions and judge for yourself the quality of education on offer here at Broadoak Primary.
Mrs Karen Wild
Headteacher
Remote / Home Learning
We are committed to ensuring that our children receive the best education, whether that be face to face or via remote learning. For details of our offer, please follow the link below:
Broadoak News and Twitter Updates

Broadoak PS @Broadoak_PS
23 Oct RT @Broadoak_Year2: ⭐️Sophia is the winner of the achievement and Olivia is our Dojo Dip winner. A special mention to Ronnie who has made i…
23 Oct RT @Broadoak_Year2: 🌈 Good luck at your new school Ronnie. 2G will miss your infectious smile and ability to make everyone else smile too.…
22 Oct Congratulations to all of the stars of the week! We are so proud of you all ⭐️ https://t.co/xTnW6vqTUM
22 Oct Please find attached the newsletter for this week. Wishing all the Broadoak families a lovely half term break. Mr… https://t.co/9Yx26nJtKP
21 Oct RT @Broadoak_Year5: ETA: 16:25. We are stuck in traffic on the motorway. 🚗🚙🚛🚗

Due to COVD-19, all planned school events have been cancelled.
Latest School Calendar Events
Half Term Break

28

Oct

2021

Half Term Break

29

Oct

2021

Half Term Break

30

Oct

2021

Half Term Break

31

Oct

2021

School Reopens - 8:55am

01

Nov

2021
Parent Curriculum Meeting Presentations
On Wednesday 15th September, we held our virtual curriculum meetings for parents. If your were unable to attend the meeting, please see below for the presentations that were shared with parents. If parents have any further questions, please do not hesitate to contact the class teacher.
Website Compliance
Every school has a requirement to meet statutory guidelines on website content in order to be compliant. All the information is available on the relevant pages and sections, however to ease access and support us in our monitoring of compliance we have created the following direct links.