Message from your teacher...
Due to the current restrictions in school, we have been unable to complete our transition visits ahead of the summer break.
Each teacher wanted to send a message to their new class to share how excited they are about getting to know them in September.
Click on the speech bubble to meet you new teacher!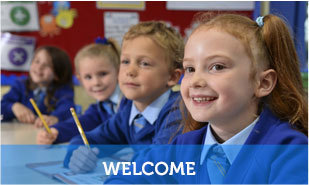 On behalf of the governors, staff and children I am delighted to welcome you to Broadoak Primary School's website.
We currently have 470 children on roll. Our aim is to provide all children with meaningful and engaging learning experiences that will prepare them for life in the 21st century. At Broadoak Primary School we are very proud of our pupils and their successes. We offer personalised learning for our young people, within an inclusive, engaging learning environment. Our friendly staff team is clearly committed to providing a secure and happy place in which to learn, one in which all children are able to thrive socially, emotionally and academically to achieve their full potential. We believe that education is a partnership between pupils, teacher and parents working together to foster and develop a life long love of learning. Our children are highly motivated, well behaved and truly delightful to teach!
We are proud to welcome parents and children to view our school and to talk about our aims, beliefs and provision. Please feel welcome to contact school to arrange a visit, ask questions and judge for yourself the quality of education on offer here at Broadoak Primary.
Mrs Karen Wild
Headteacher
Broadoak News and Twitter Updates

Broadoak PS @Broadoak_PS
18 Sep Please find attached the newsletter for this week. Thank you for your on going support and understanding at this e… https://t.co/30AKVlO9BV
18 Sep Message to all parents, please make sure you have checked your emails this morning before coming to school. An imp… https://t.co/kW1WU0MhnJ
15 Sep RT @BroadoakPupil: There is election fever in Broadoak this week as we begin to vote in our new Pupil Voice representatives for 2020/21. Ea…
8 Sep Parents warned 'extremely graphic' video making rounds on Tik Tok, Facebook | Western Advocate | Bathurst, NSW https://t.co/giuPOBueyV
8 Sep Urgent Safeguarding Update: We have received information of a inappropriate video being posted on Tik Toc. Tic Tok… https://t.co/Zwu8wdoQMj

Due to COVD-19, all planned school events have been cancelled.
Latest School Calendar Events
There are currently no events.
Calendars page(s): School Calendar >>
Website Compliance
Every school has a requirement to meet statutory guidelines on website content in order to be compliant. All the information is available on the relevant pages and sections, however to ease access and support us in our monitoring of compliance we have created the following direct links.