Geography
Our Aims
"A high-quality geography education should inspire in pupils a curiosity and fascination about the world and its people that will remain with them for the rest of their lives." (National Curriculum 2014)
At Broadoak Primary school we aim to develop in children a desire for knowledge about the world around them. Children are given the opportunities to draw and interpret maps and to develop their skills of research, investigation, analysis and problem solving. They are taught how to communicate their findings effectively and purposeful links are made to core and foundation subjects where appropriate. Children consistently and progressively learn about their local area and compare their life in this area, with that in other regions in the United Kingdom and in the rest of the world. Our teaching equips children with knowledge about diverse places, people, resources and natural and human environments. We explore the Earth's key physical and human processes and develop children's understanding of the interaction between these processes, and of the formation and use of landscapes and environments. We consider how the Earth's features have been shaped and changed over time.
Geography teaching enables and motivates children to find out about the physical world and enables them to recognise the importance of sustainable development for the future of mankind. The school achieved the Eco Schools Green Flag Award in November 2011 and again in February 2014. Eco-Schools is an international award programme that guides schools on their journey towards sustainable development, providing a framework to help embed these principles into the heart of school life. Children at Broadoak in all phases of their education learn about different aspects of sustainability and responsibility as a 'Global citizen'.
The Teaching of Geography
Through our Geography teaching we aim to:
Enable children to gain knowledge and understanding of places in the world and build contextual knowledge of the location of globally significant places – both terrestrial and marine.
Support children defining key physical and human characteristics of places and explore how these are interdependent and can bring about spatial variation and change over time
Develop learners that are competent in interpreting a range of sources of geographical information, including maps, diagrams, globes, aerial photographs and Geographical Information Systems (GIS)
Develop a variety of other skills, including those of enquiry and problem solving and support children presenting geographical information in a variety of ways, including through maps, numerical and quantitative skills and writing at length.
Provide children with a range of fieldwork experiences that deepen their understanding of geographical processes so they can collect, analyse and communicate information from first hand experiences
Increase children's knowledge of other cultures and, in so doing, teach a respect and understanding of what it means to be a positive citizen in a multi-cultural country
Encourage in children a commitment to sustainable development and an appreciation of what 'global citizenship' means
To enable children to know and understand environmental problems at a local, regional and global level
By supporting these aims we are helping to equip the children with a greater knowledge of the world around them and provide an understanding of environmental issues and how we can support these through ecological awareness initiatives within our curriculum planning and extra curricular activities.
In order to achieve these aims we provide:
An interesting learning environment in which children feel safe and secure
Opportunities for children to be actively involved and engaged in their own learning, through creative approaches to learning with strong cross-curricular links when appropriate
Opportunities to promote independence
Evaluations of children's progress towards the Early Learning Goals and National Curriculum guidelines which inform planning at all stages.
Effective monitoring of teaching and learning
Curriculum Organisation
We use a variety of teaching and learning styles in our geography lessons. We believe in whole-class and group teaching methods, in addition to enquiry based research activities. We encourage children to ask and answer geographical questions. We offer them the opportunity to use a variety of data, such as maps, statistics, graphs, pictures and aerial photographs. We enable them to use ICT in geography lessons where appropriate. Children participate in discussions and present reports to the rest of the class and are taught to present information in a variety of ways, including writing at length. Wherever possible, we involve the children in 'real' geographical activities e.g. research of a local environmental problem or use of the internet to investigate a current issue. There is an established unit of fieldwork in each year group.
We teach geography in the EYFS as an integral part of the topic work covered during the year, relating the geographical aspects of the children's work to the objectives set out in the Early Learning Goals through 'Understanding the world.'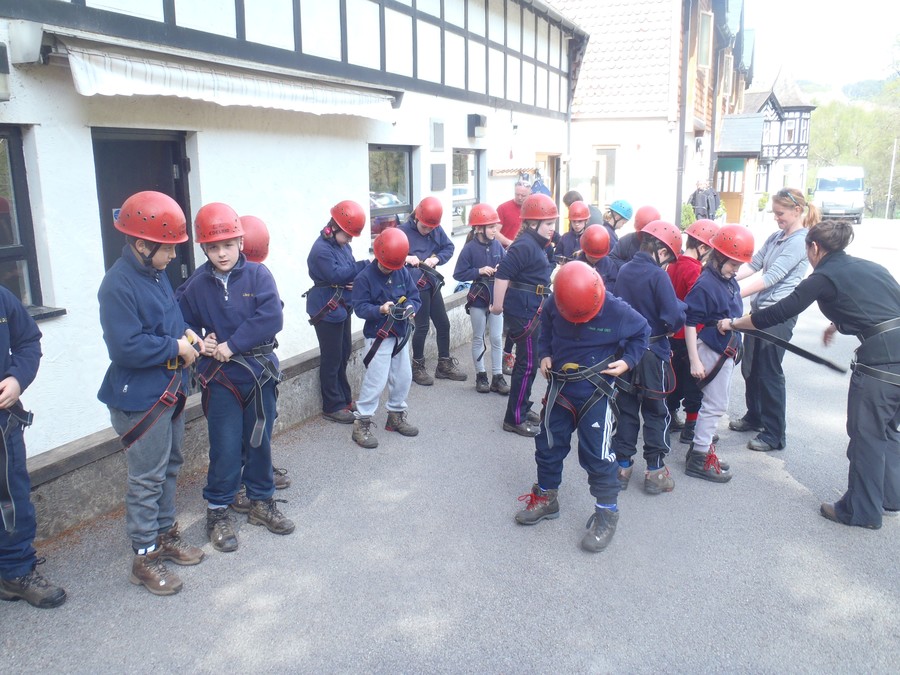 Geography in Key Stage One
In Key Stage one children work through a range of geographical questions throughout the year. This includes a local study, a national study with work that develops children's knowledge of the British Isles and also work on international locations.
Geography in Key Stage Two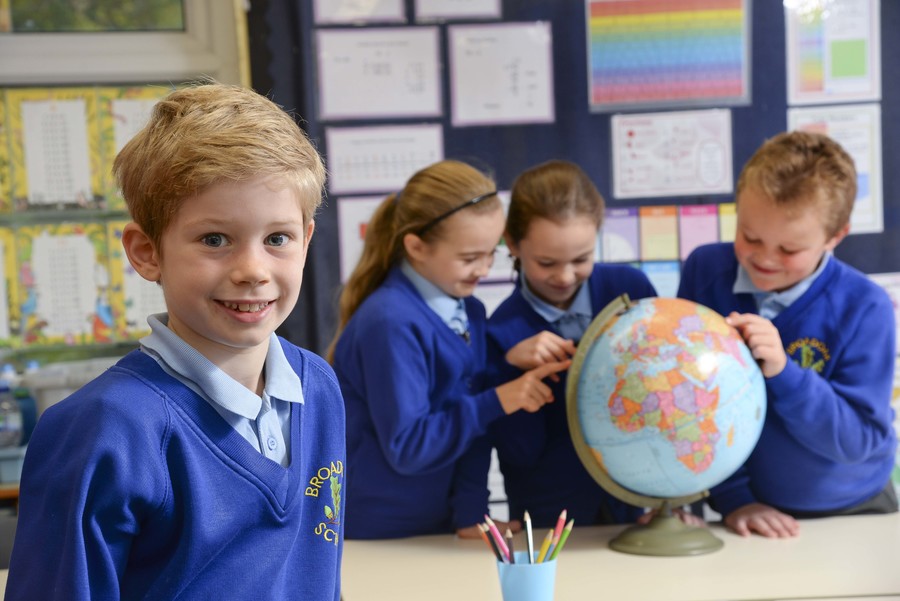 Key Stage two also approach geography in a cross curricular way making real links to other areas of the curriculum such as art, design technology, ICT as well as the core subjects of literacy and mathematics. Again, there is a focus on a range of local, national and international locations as well as fieldwork during residential visits to LLedr Hall (Yr5) and Patterdale (Yr6).
Locational Knowledge
With the introduction of the National Curriculum 2014, there are heightened expectations in terms of children's locational knowledge.
Children in Key Stage one are now expected to be able to name and locate the world's seven continents and five oceans. They are also expected to be able to name, locate and identify characteristics of the four countries and capital cities of the United Kingdom and its surrounding seas.
By the end of Key Stage two children should be able locate the world's countries, using maps to focus on Europe (including the location of Russia) and North and South America, concentrating on their environmental regions, key physical and human characteristics, countries, and major cities. They should also be able to name and locate counties and cities of the United Kingdom, geographical regions and their identifying human and physical characteristics, key topographical features (including hills, mountains, coasts and rivers), and land-use patterns; and understand how some of these aspects have changed over time. They should also be able to identify the position and significance of latitude, longitude, Equator, Northern Hemisphere, Southern Hemisphere, the Tropics of Cancer and Capricorn, Arctic and Antarctic Circle, the Prime/Greenwich Meridian and time zones (including day and night)