Music at Broadoak
Our Aims
Across the school we aim that music teaching should provide an enjoyable and engaging challenge for children. There is a high importance placed on developing the skills of performing, composing and appraising in all activities to develop each child as a musician. We hope that children will extend these by applying their listening skills to their knowledge and understanding of music by making and responding to a wide range of music. Children will be helped to understand how sounds are made and changes are organised in a piece of music as well as how it is influenced by time and place, venue, occasion and purpose.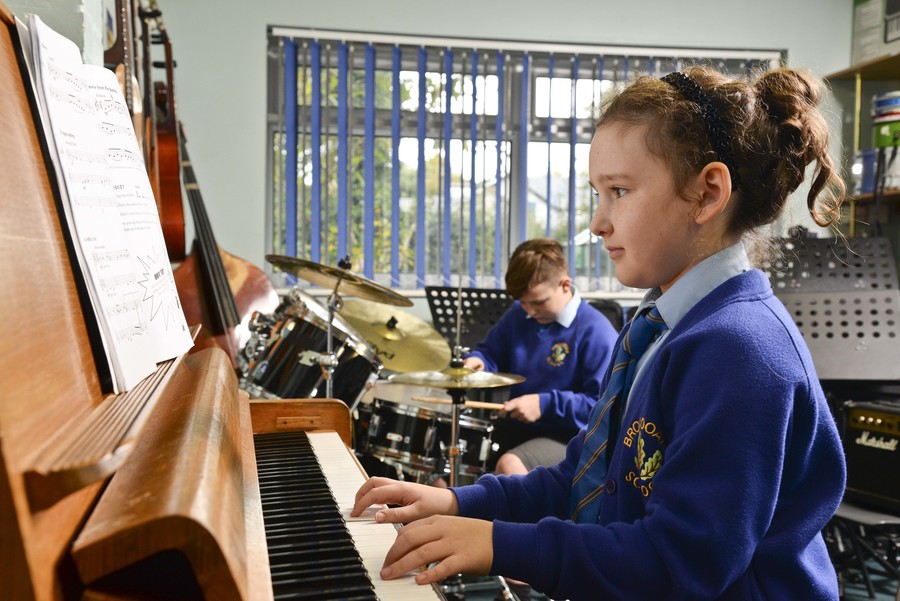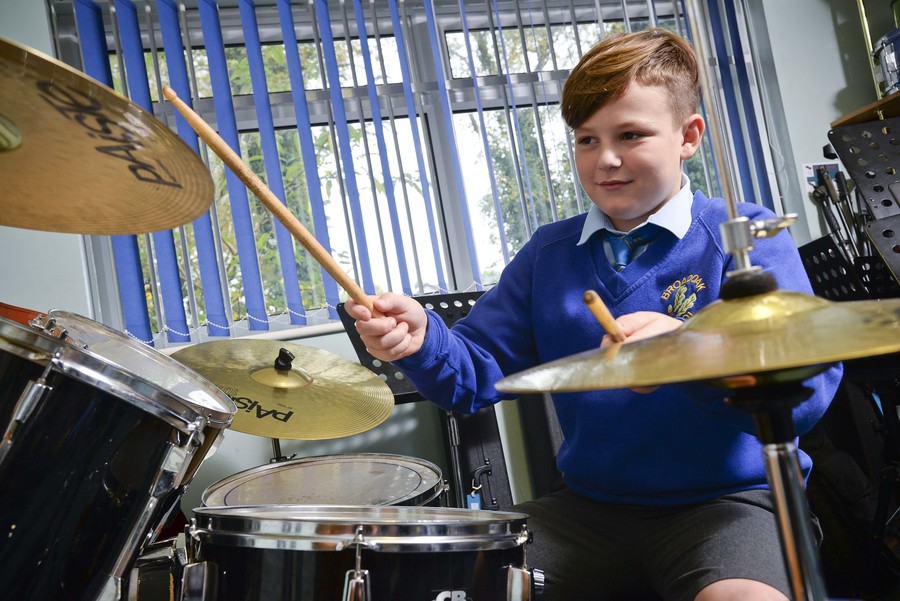 The Teaching of Music
All teaching staff follow the Charanga teaching programme which focuses on the teaching of music based on the use of songs and rhymes. This helps the children to develop in each of the interrelated skills of performing, composing and appraising. Below is an overview of what your children will be learning over the school year.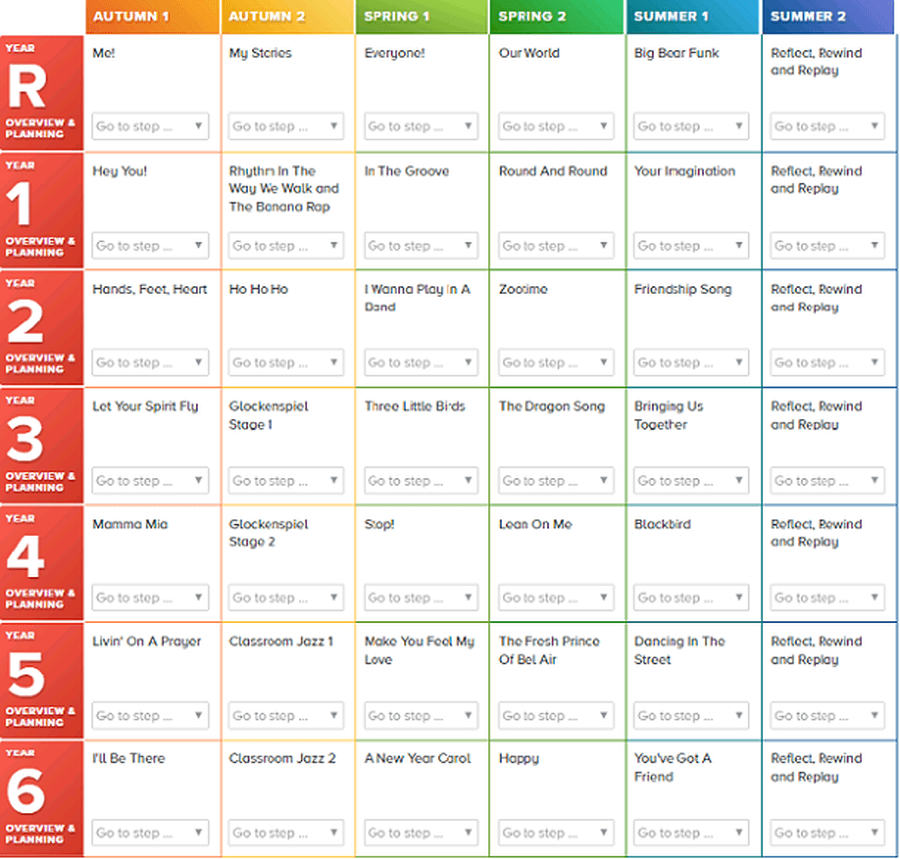 Music in Early Years
In the foundation stage music is an integral part of learning. In addition to the teaching of musical skills such as finding the singing voice, keeping a steady pulse and understanding the comparatives; louder/quieter, higher/lower and faster/slower, the children use music and song across the curriculum. Listening to songs from different cultures increases a child's knowledge and understanding of the world. Assemblies and Christmas performances for parents allow children to showcase their musical skills.
Music in Key Stage One
Throughout Key Stage 1, children continue to develop their music skills and enjoy using them in performance throughout the year. The Charanga programme introduces simple rhythm notation and the ability to distinguish pitch more accurately. The children gain more control over their voices and learn to sing together. Where appropriate, music is combined with movement and dance to engage children and encourage rhythmic, expressive movement. Children are also given the opportunity to play a variety of tuned and un-tuned percussion instruments independently, as part of a group and as part of a whole class ensemble.
Music in Key Stage Two
At Key Stage 2, children have acquired a range of music skills; including a knowledge of musical vocabulary. They are able to use their knowledge of rhythm, pitch notation, singing and playing in parts, composition, improvisation and performance. Each class has a weekly lesson where they develop their awareness of a range of composers and genres of music as well as using their singing voices and instruments to compose and perform their own pieces as both individuals and as part of a group.
Extra-Curricular Music
At Broadoak, we offer children a variety of ways to broaden their musical skills outside of the classroom.
At Broadoak we are very proud of our school choir. The children in the choir perform at a variety of events throughout the year including the Christmas and Summer Fairs as well as performing at a selection of school assemblies throughout the year. The choir also takes part in Young Voices at the Manchester Arena. Children rehearse for these events during Monday lunch times throughout the year. For further information about joining the school choir, please contact Mrs Sequeira-Jennings or Mrs Hanson in Year Four.
A range of musical tuition is provided in the school day and after school for those parents who wish their child to have additional tuition either in a group or individually. This opportunity is taken up by many parents and enhances the quality of music teaching already provided at Broadoak. For further information about music tuition please visit the music tuition section on the website.
Below is a video of the music club performing Twinkle Twinkle Little Star on the boom whackers.

Whole School Music Events
At Broadoak, we believe that it is important that children develop their knowledge of a range of different musical genres and traditions. Every year, we invite visiting musicians into school to work with all classes from Year One through to Year Six. This year we are pleased to be hosting a Music Curriculum Enhancement during the Autumn Term where children will be listening to, singing and playing instruments to a variety of styles and genres of music.

Musical Visits
Steel Pan Group Visit
We were delighted to welcome the Steel Pan group to school, although our visiting musicians were not too pleased with our particularly chilly Manchester location! All the children in Year One to Year Six enjoyed hearing about the roots of this genre of music through an assembly and they enjoyed taking part in the class workshops that followed where they had an opportunity to sing, dance and play the steel pans.
Gospel Choir visit
Broadoak Primary School were delighted to welcome the Gospel choir, Gospel Touch, into school. Children had an opportunity to hear Gospel Touch choir perform in an assembly and to learn some of the history of Gospel music. The children were certainly captivated by the performances they gave us and joined in enthusiastically. The three-piece choir consisted of Sam as baritone, Dan as melody and Deinma as soprano. They treated us to performances of 'Amazing Grace', 'This Little Light of Mine' and 'Lean on me.'
Following the introductory assembly, the choir went to individual classes to complete workshop activities with the children in Year One to Year Six. Each workshop lasted 45 minutes and gave the children an opportunity to hear more about the history of Gospel music, take part in vocal games to develop their understanding of rhythm and pitch and also learn and perform a gospel song. The children worked in teams to create harmonies and rounds. The children also took part in vocal exercises and talked about the importance of vocal warm-ups and breathing exercises to support their singing. As the children sang their final song, they competed to be winners of 'Broadoak's got Talent' and 'X-factor'. It was a very enjoyable learning experience!
We hope you enjoy looking at some of the videos and photographs below.